School Management Software
for school ,college and coaching
ZeroERP School management system is the one stop solution for all educational institutes to automate data management process. Whether you are looking for the best school ERP for school, college or coaching institute, the dedicated and experienced team at ZeroERP knows well how to stand on the expectations of their clients and therefore, develops a user-friendly and secure school erp.
Manually written data which is prone to numerous errors has arisen the need to adopt the automated and cloud-based school management software for educational institutes. School ERP offered at ZeroERP ensures that all information needs to be stored electronically and school management system is a trouble-free process.
Along with school management software it provides a school app with multi lingual environment with current support to English,Hindi,Urdu,Marathi,Spanish as it is designed for multiple languages.
School management system is a critical piece of a school college or coaching , it enables agility , simplicity and structure to the operation and raises the bar on quality.
Education institutes are the most important part for the development of a child, a human being spends its most important year which builds personality, morals and thinking pattern in an education institute, the friends and acquaintances it meets go a long way. the sense of responsibility, the understanding of duties, rights as an individual, understanding of boundaries all acquired in this time frame.
An education institute that is administered efficiently brings the best out of people by providing multiple opportunities, sparking innovation, encouraging collaboration and developing empathy.
Having said that how does one raise the administrative quality in an education institute? and how a school management software helps in that ?
administrative tasks in an education institute can be classified as
Data administration
Communication
Security
Each requires a protocol, process and delivery mechanism for successful operation.
School management system assists the stakeholders in each step by building protocol, enforcing process and providing a guide for effective delivery at each step.
Data administration
A School needs to collect and manage different type of data for its operation. Be it Student Management, Fee Management , Staff Management , Payroll , Finance Management ,Income , Expenses , Library Management system, Student Attendance  , Staff Attendance
School management App Features
This software is multilingual-English, Hindi,Urdu,Spanish.
Easy homework tracking for teachers and parents.
Parents and students can easily be updated about their timetable
Easy to keep a track on transport details for school management.
It will be easy to keep record of students fee with this software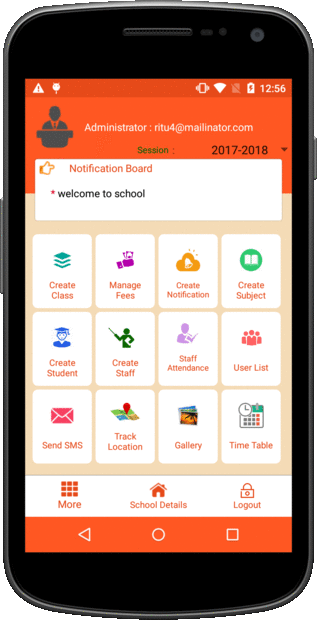 You can track location of your vehicles through gps tracking system included in our software.
Your student,teacher, parent can communicate with each other.
You can keep a track for all the books available in library as well as their issue and return.
You can manage all your staff details and control their access permission for the software
You can manage all the exam details and can also create report of students from our school management software
How does ZeroERP school software work for institutes?
ZeroERP simplifies the interaction between Parents and teachers as well as reduces data entry effort through mobile or tablet.     
This app is very nice to school , staffs , students and also parents . It is very useful for parents to know the homework because some students are there who don't tell to there parent so it is very nice. I am thank ful to for opening this app
Entry of examination marks:
Faculties can easily create an online exam for student and student is able to perform exam according to their availability through an app or web software. They can also upload the results of examination directly on the school software so that parents and students will be able to view the results and progress of their child, they are provided with an instant notification to parents and teachers. Facility is available in Android app, Ios App and web software.
Examination Management in Android App
Works super on a tablet !! This is the only school management software that has an app which is simple to use , works out now all devices and has tonnes of features. Extremely simple . Great product. " Google Play Store "
Entry of Attendance
With the help of school software offered by ZeroERP, you will be able to keep track of the attendance of students and staff regularly on the excel sheet. With the help of school management software app staff can easily upload students attendance and can easily view the report. In fact, you will be able to inform parents about the attendance record of their children via message or email through school app and software. This facility is available for all three web software, Android app and Ios App
Attendance Management in Android app.
Exam Management