Best school app
In early 90's people used to manage every piece of information in a piece of paper which used to require a lot of time and money to maintain them. But now everything is possible on fingers with few seconds. There are so many School App and School management software which can make your work a lot easier and reduce a lot of work pressure.
Here it is one useful school mobile app with all the features required for school management system. Being an owner of a school you would be aware of a large number of queries from parents. During a rainy day or in an emergency holiday, students it becomes a tedious job to inform parents about a holiday or to provide student's well-being. So this school app was developed for better communication with easy to use tools for both parents and students. Schools can easily send a notification to every individual in a mere click from anywhere and anytime. This notification would be available on individual mobile as well as it is displayed on the school login page. This makes an easy and quick connection with the busy parents and even assure them with the security of their child.
Thus this zeroerp school app will help in bringing a huge change in your school management system with increased speed of work along with monetary saving.
Time-saving-

Old tradition method of pen paper are time-consuming, nowadays everything is possible through fingers in a few seconds. This school management software is easy to use, less time consuming and eco-friendly.

Easy data retrievable- 

It is a complete cloud-based school management system that automates the routine tasks for a teacher and enables communication between teacher and Students/parents.

It has all the feature that is required by an institute to run smoothly.It consists of a various application which can be used by an organization to collect, store and manage their file work on the cloud. As data is stored in the cloud it is easily retrievable from anyplace at any time from any device.

 
School App Features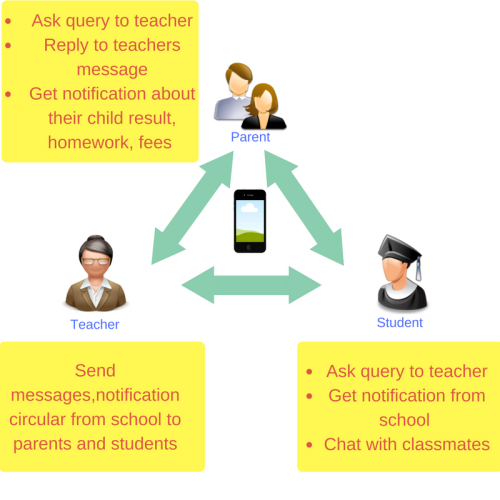 Easy mode of communication-

In spite of the fact that school management software is about administration, yet it can make it easy to communicate with the parents, guardians, students.

Schools can allow direct communication between teachers and guardians in order to resolve their child problem in a fast and easy way. This will reduce the unnecessary meetings with teachers and wastage of time.

This is all possible with the help of school app which is a part of school management software.

Features like Chat and GPS Tracking-

Today security of a student is the main concern for all the school. So GPS tracking in a bus is must and should be monitored to be on safer side.

This type of feature along with management of the school is a plus point for school and thus zeroerp provides you with this.